I had to say no to a conference I would have loved to speak at today. I've had to say no to several conference speaking offers this year, because it turns out that time, space, and timezones can only be manipulated to a certain degree.
I thought about not blogging about this, because it's a problem of privilege – "my diamond slippers don't fit". But it's still a problem, and I'm not the only one who encounters it. I've talked to some conference organizers and other speakers, and I've tried to put together a set of guidelines for the least awkward way to handle this.
Here's a quick flowchart of the process: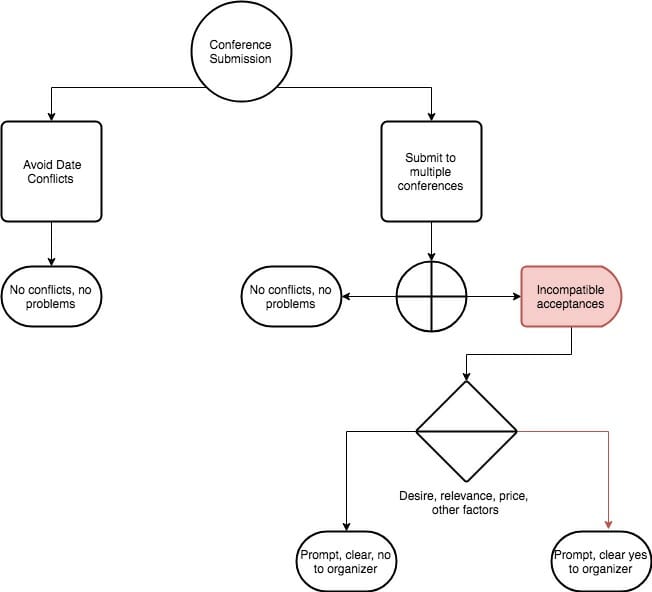 Breaking this down into guidelines, it goes like this:
If you can't stand the idea of telling an organizer you can't give a talk, don't apply to conferences that overlap or have very tight affordances.
If you do apply for overlapping conferences, you may end up not having a problem because no one gets accepted to every conference. NO ONE. So the odds are pretty good that you'll be fine.
If you have a conflict, it is on you to sort it out and tell people what your response is as soon as humanly possible. Everyone has a different set of evaluation criteria, but they might include price to attend, value of exposure, who asked first, which you would rather attend, things like that. You can ask organizers questions that help clarify that, but it's bad form to string them along or try to start some kind of weird bidding war. This is the speaker's dilemma.
You must be as prompt as possible in accepting or declining a conference speaking invitation. Organizers are juggling flaming chainsaws trying to put together a balanced schedule, and they just need to know.
Things it might help you to know:
Organizers always have a waitlist of speakers that just barely missed the cutoff.
It's great if you can decline early, but sometimes shit happens and you, say, dislocate your shoulder or get stranded in a blizzard or something. Call the organizer ASAP and give them as much time as possible.
It's far better if you can get this all settled before speakers are announced, but sometimes you can't. Just as soon as possible.
Actually apologize to the organizer if you must decline. They are professionally disappointed, you can be professionally regretful.
If you, like me, are a person who always has a talk (or 8) "in their pocket" that you could give at a moment's notice, it's kind to tell organizers so. Don't be a pest about it, but I've ended up filling in a couple times for last-minute problems.
---
This whole set of actions is predicated on you trusting the conference organizer and wanting to speak at the conference. There is a different, and more complicated set of problems if the conference itself is the problem, as outlined in Coraline's post about OSCON. I'm still working on getting my head around that, and the stupid programming moves Worldcon 2018 attempted and then walked back.